The
Knitting Teacher's Assistant
is a small 32 page booklet that was produced in the nineteenth century to aid teaching knitting in schools. The booklet uses a question-and-answer dialogue to discuss all the instructions and actions required to complete a knitted sock. There is a table at the back of the booklet with multiple sock sizes with the required stitch count in order to achieve each size.
The booklet was published by Hatchards, who have an archive, but haven't responded to my requests for information about when the booklet was printed and how many copies were produced. Therefore, the data is patchy, and based on copies that exist in libraries and archives that have been catalogued.
The earliest copy that I have seen is a facsimile of an 1817 publication that was produced by
Robin Stokes
(sadly the website no longer exists). The added information page at the front of the copy noted that this was a facsimile of Robin's personal copy (location unknown).
According to the library catalogue at the University of Melbourne, Australia, they have an 1819 edition.
The University of Reading has an
1836 publication of the seventh edition of Knitting Teacher's Assistant
in the Special Collections held at the Museum for English Rural Life in the Children's Collection. The British Library also has a copy
with the same year and edition
.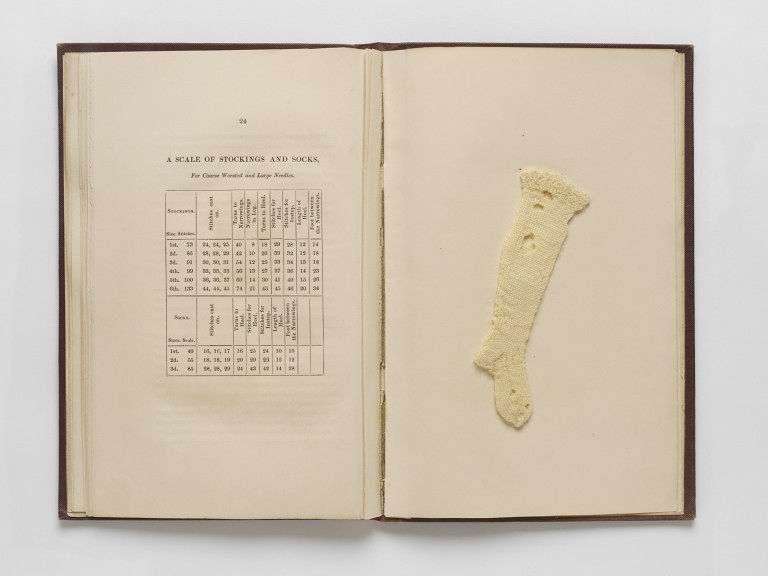 V&A Museum
The V&A Museum has what looks to be the same content, with the title
The National Society's Instructions on Needlework and Knitting
and it contains a knitted sampler. The summary suggests it 'was the first British publication of this type on knitting' but their copy is 1838 and second edition, whereas the University of Reading copy is 1836 and seventh edition.
University of Southampton
The Knitting Reference Library at the Winchester campus of the University of Southampton has an 1881 publication from Richard Rutt's collection which has been digitised and is available through
Archive.org
.
If you know of any earlier copies, please leave a comment with the details.